Congratulations Lisa and Alex – finalists in the QRC Indigenous Awards
Thiess' Lisa Campbell and Alex Dyball have been recognised as finalists in this year's Queensland Resources Council (QRC) Indigenous Awards.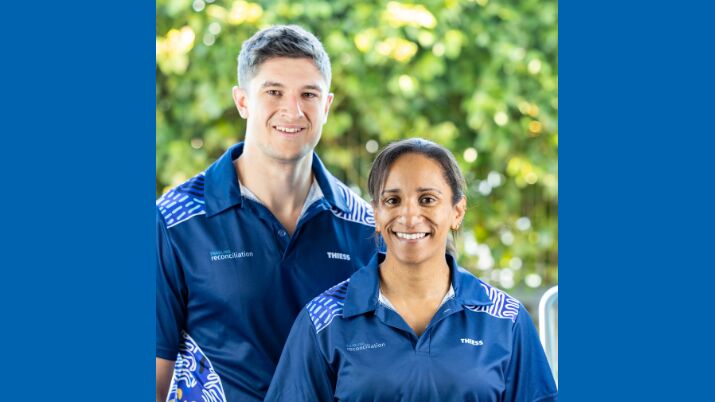 Lisa, a Production Operator and member of the Emergency Response Team (ERT) at Lake Vermont, is one of four finalists in the running to be named the 2023 Exceptional Indigenous Person in Queensland Resources. Alex, an Engineer in Thiess' Sustainability Technology team in Brisbane, is a finalist in the Indigenous Rising Star category.
Lisa started her career in 2015 through Sisters in Mining – a Thiess program supporting Aboriginal and Torres Strait Islander women to transition into the mining sector as trainee haul truck drivers.
Although her father had worked in the industry, Sisters in Mining helped lift a barrier for Lisa: "You don't see a lot of programs for the resources sector aimed at women, and Indigenous women particularly. It can be very daunting," she said.
In 2019, Lisa joined Lake Vermont's Emergency Response Team, becoming its first female and Indigenous member. She's also proud to have been one of the original delegates of Indigenous Women in Mining and Resources Australia (IWIMRA) – an organisation founded in 2017 to create a stronger connection amongst Indigenous women in the industry.
Lisa finds great purpose in supporting and uplifting other First Nations women and feels a strong sense of responsibility to help them succeed.
"I've been in their shoes, and I want to provide support and push them to strive for the same opportunities I was afforded," she said.
"I share my experiences to show them that there is a place for Indigenous women in the mining industry and everyone's skills and contributions are valuable."
Alex joined Thiess in 2019 as an undergraduate, through CareerTrackers – an Indigenous organisation supporting pre-professional Indigenous university students. He went on to join our graduate program and was recently appointed as an engineer in our Sustainability Technology team.
Like Lisa, he is focused on inspiring other Aboriginal and Torres Strait Islander people and giving back to organisations that have supported his career aspirations. This includes his continued involvement with CareerTrackers and with the Thiess graduate program.
Alex's significant contributions at Thiess include successfully deploying new network monitoring and diagnosing software for our autonomous fleet, as well as providing input into our Environmental, Social and Governance (ESG) strategy to help decarbonise our industry.
Both Lisa and Alex are members of our Reconciliation Action Plan (RAP) Working Group, helping to shape Thiess' commitments to Indigenous representation and reconciliation.
The 2023 QRC Indigenous Awards winners will be announced this evening (20 June) at the awards function in Brisbane.