Big names in mining team up to demonstrate remote semi-autonomous dozer technology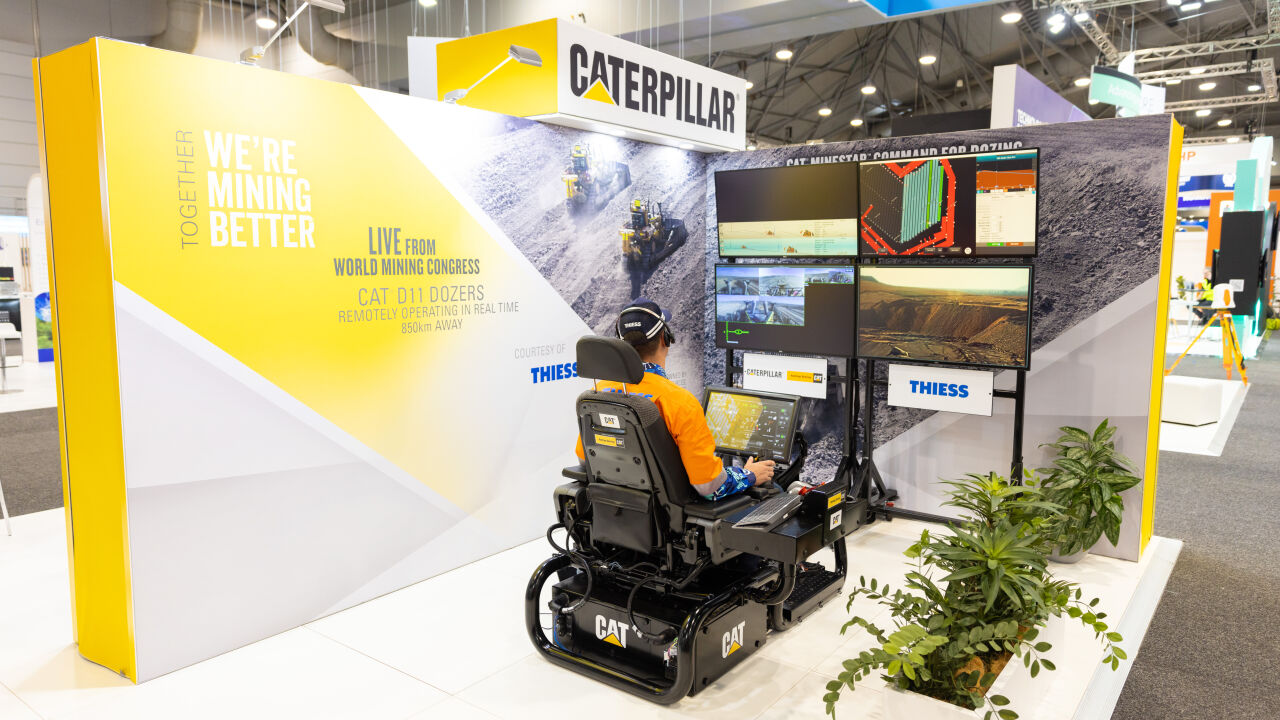 Thiess, Caterpillar and Hastings Deering deliver off-site remote operation of Cat® MineStarTM Command for dozing live at the World Mining Congress in Brisbane (27–29 June 2023).
Global mining services provider Thiess has teamed up with original equipment manufacturer Caterpillar and local Cat dealer Hasting Deering to demonstrate Thiess' semi-autonomous dozing operation using a remote operating station (ROS) located over 850km away from the site.
Thiess controllers will remotely operate multiple Cat® D11 dozers, at Lake Vermont mine in Central Queensland, live from Caterpillar's stand [Gold 4] at the World Mining Congress. This is the first time multiple dozers have been controlled off-site for a customer using Cat MineStar Command for dozing's semi-autonomous tractor systems (SATS) since the product has become commercially available. With this autonomy layer enabled, operators can control multiple dozers at a time, without the need for the operator to be physically on site.
Thiess has one of the world's largest active deployments of SATS technology at Lake Vermont mine, where six Caterpillar D11 dozers are operating. Thiess' data shows through SATS technology, they have moved more than 8.2 million banked cubic metres (equivalent to more than 3000 Olympic-sized swimming pools) and seen a 25% improvement in dozer utilisation delivering up to 23 hours per day of operation – in comparison, conventional, staffed dozers typically achieve 17 hours per day. Thiess first implemented Command for dozing at Lake Vermont in 2019.
Thiess Group Manager – Autonomous Services Trent Smith said: "We are excited to work with Caterpillar and Hasting Deering on this live demonstration and showcase our experience and
expertise in autonomous mining services"
"Autonomous mining and rehabilitation are a key part of Thiess' service offering – we've seen improved safety, and productivity and efficiency benefits, and have upskilled more than 100
employees on autonomous mining systems."
"We are excited to have Thiess showcase semi-autonomous dozing live from the show floor of World Mining Congress using Cat MineStar Command for dozing," said Sean McGinnis, vice president of technology and global sales support at Caterpillar. "In addition to enabling safe operation from a comfortable environment, Command for dozing customers are achieving increased equipment utilization, improved production outcomes, greater compliance to their mining plan and lower operating costs."
Simon Zillman, product manager for Hastings Deering added: "We've been on a journey with Thiess over the past three years to build the autonomous capabilities across their sites, supporting with expert technicians both onsite and remote. The World Mining Congress is the first opportunity for us to showcase semi-autonomous Command for dozing with SATS technology operating from an urban area. The SATS Technology allows for full utilization of the machines capability with a product that is fully integrated with the Caterpillar dozer, leading to greater productivity and safety onsite."