Thiess is proudly committed to supporting reconciliation and delivering outcomes for First Nations people through training, employment, and supply chain opportunities.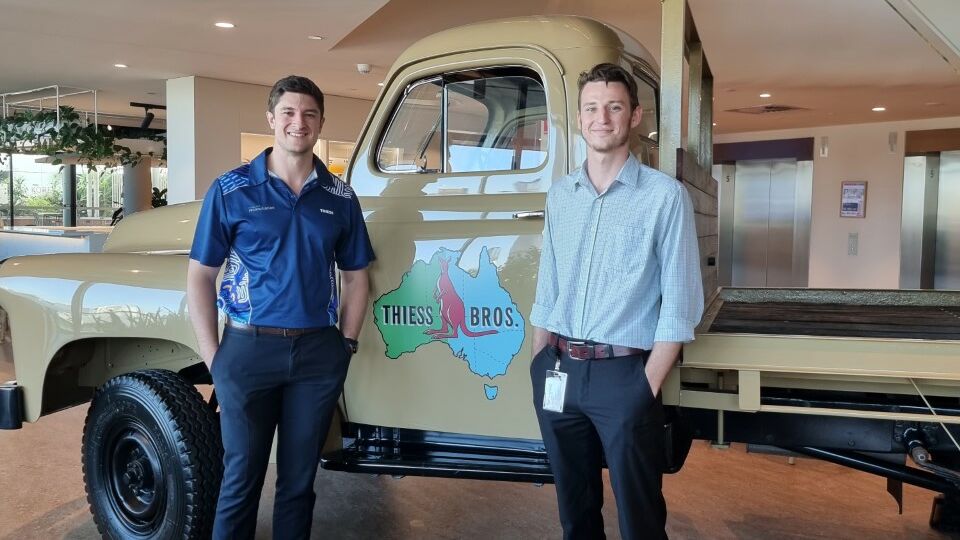 To drive this work forward, Thiess partners with leading and national purpose-driven organisation CareerTrackers which supports Indigenous university students and links them with employers to participate in paid, multi-year internships.
CareerTrackers' goal is to create pathways and support systems for Indigenous young adults to attend and graduate from university with high marks, industry experience and bright professional futures.
Thiess partners with CareerTrackers to facilitate the participation of students and interns in our Vacation Program and ideally through to the Graduate program and employment with Thiess.
This was the case for Mechatronic Engineer Alex Dyball who originally worked as a winter and then summer vacation student, joined the Graduate program and was recently appointed into his Mechatronic Engineer role with the Sustainability Technologies team in Head Office.
We spoke with Alex about his career to date, the opportunity CareerTrackers created for him and the way he has embraced that opportunity.
Following on from his two successful vacation student placements and completion of his Mechatronics studies at USQ, Alex joined Thiess' Graduate Program which included a stint at Lake Vermont.
"During my time at Lake Vermont, the opportunity to work on all aspects of the operation was an eye-opening and invaluable experience that contributed significantly to my professional development," Alex explained.
"Being exposed to different mining operational challenges in conjunction with continuous improvement of semi-autonomous dozers and autonomous drills, and learning from experienced hands-on people has set me up for my current role.
"I enjoyed the time at site and in the community, exploring the outback with other colleagues and friends made along the way.
"Going to site for the first time can be a bit daunting but it really is what you make of it – it's a great chance to learn, to connect with other people, to build your professional knowledge and have some fun."
Alex explained that participating in the CareerTrackers program was most valuable at the time when he was completing his studies as it took a lot of stress out of his next steps and employment search.
"I'm grateful for the CareerTrackers opportunity and the chance it provided for me to continue work with Thiess.
"Many of my fellow graduates were distracted from their final studies by their job search so I was very pleased to have the support of CareerTrackers and Thiess, including the opportunities CareerTrackers provides to give back by mentoring and supporting students as an Alumni.
"I'm currently four months into my first engineer role following the graduate program and I am proud to be working in sustainability where we focus on the global imperative to decarbonise industry. Thiess has made a commitment of achieving net-zero by 2050 and has set interim targets in the sustainability report, and my role contributes directly into achieving these targets.
"We have an important role to play in contributing to our global decarbonisation challenge and it's exciting to be part of it. By applying different innovative technologies in some of the toughest environments in the world, we are constantly striving to ensure the continuous improvement of our sustainable mining practices," Alex said.
Alex also shared some advice for CareerTrackers interns and students explaining that showing interest and taking initiative goes a long way to building respectful relationships with your colleagues.
"If you are genuinely looking to learn, people will go out of their way to help you. I've been really well supported at Thiess and given every opportunity to pursue projects and areas of work that I'm interested in.
"I've also been able to participate in the Reconciliation Action Plan (RAP) Working Group, representing Thiess at events at site and in Sydney, and obtain sponsorship for an Indigenous organisation, NISTEMPN. I'm proud of my contribution to the RAP Working Group and I'm looking forward to continuing to be part of that work."
Current Engineering student, Harley Luxford, is also proudly part of the CareerTrackers program. Majoring in Mechanical Engineering, Harley is working in the fleet team within Assets supporting a number of projects taking place across Australia. His key support work includes Job Safety Analysis (JSAs); Risk Assessments, lubrication studies and fire protection systems for heavy mining equipment.
Harley explained that he has been part of CareerTrackers since 2019, joining while in his final year of study at high school and completing internships ever since.
"CareerTrackers have helped me secure multiple internships at various Engineering companies and consultancies, most recently at Thiess where I've completed two vacation programs and now secured an undergraduate role," he said.
"Due to my involvement with CareerTrackers, I have gained an immense amount of invaluable experience, both in my chosen area of study and my professional portfolio, all prior graduating my degree.
"This experience has helped me excel at university and understand a greater scope of the application of engineering studies in real-life situations.
"I plan to continue to work for Thiess as an undergraduate engineer until finishing my degree and hopefully securing a graduate role within the company. Progressing with Thiess, I'll develop vital engineering skills and experience within the mining industry, ultimately expanding my engineering portfolio and engineering career," Harley concluded.