Thiess wins Production & Maintenance award at the 2022 Mining Magazine Awards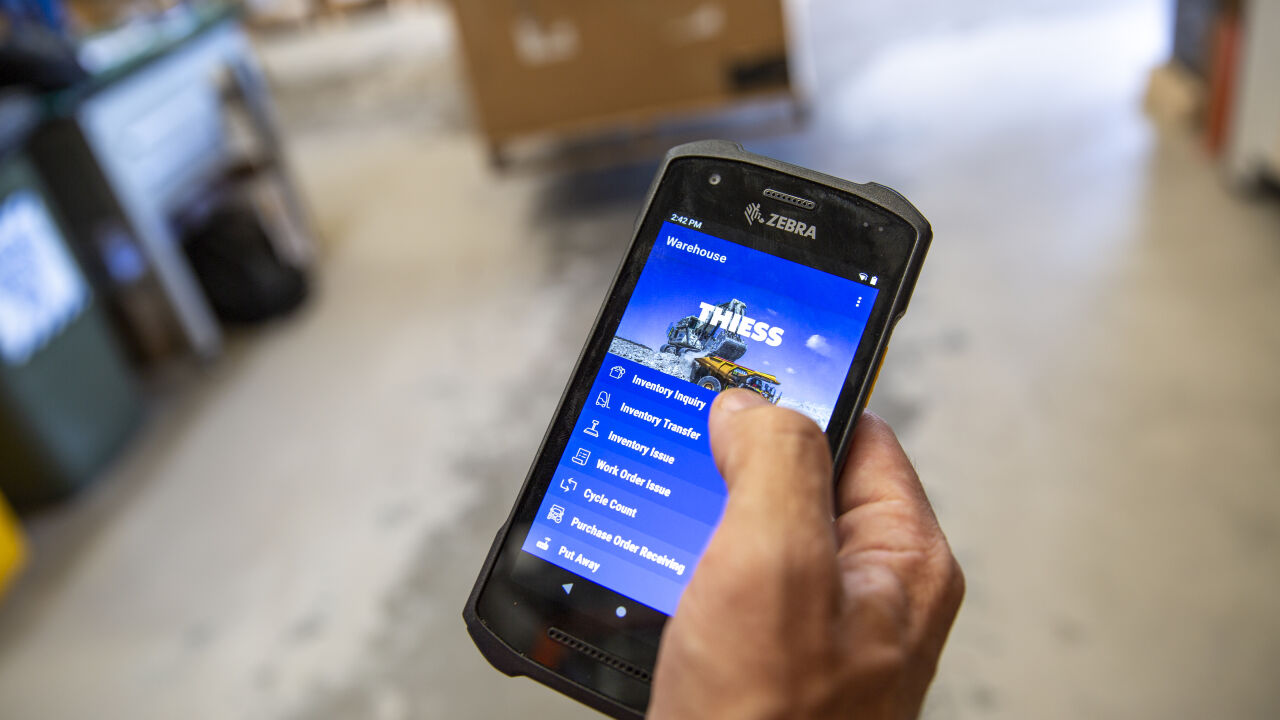 Thiess is proud to share that our new mobile maintenance and warehouse apps won the Production and Maintenance Award at the 2022 Mining Magazine Awards.
As part of our digitisation strategy and vision to harness the power of our people and technology to drive sustainable resource solutions, Thiess worked with Rinami to develop two new fit-for-purpose digital solutions: a mobile warehouse application and mobile maintenance app.
The apps drive sustainable improvement across Thiess' operations, delivering increased efficiency and greater business agility for employees and clients.
The mobile warehouse app replaces manual paper-based processes with a handheld device operated via a cloud network, digitising how we manage warehouse inventory.
This app reduces the time to process daily tasks like receipting, issuing, picking and stocktaking, simplifying operations and site processes. It also provides an accurate and reliable way to capture and retrieve warehouse and inventory data in real-time.
The mobile maintenance app is also streamlining processes and driving efficiencies. The android-based app is linked directly to the Computerised Maintenance Management System (CMMS), replacing paper-based processes and duplication of work by allowing tradespeople to create work orders and add parts directly via their handheld device.
The app allows for more detailed data capture, eliminates transcribing errors and allows for the seamless addition of photos to the work order. It also drives operational efficiencies and means maintenance supervisors can move away from time-consuming administrative tasks and instead spend more time on the workshop floor supervising crews.
In developing the apps Global Operations Manager Rinami, Alistair McGregor said Thiess and Rinami identified some key strategic initiatives centred around mobility solutions in 2019.
"A comprehensive review of the existing processes to understand the logistical constraints that each site operated under was undertaken, and key requirements were gathered to ascertain opportunities for improvement.
"Ultimately, the strong partnership and trust we have with the Thiess team has ensured the successful delivery of leading-edge mobile solutions into the Thiess business," Alistair said.
What's next?
The team is now looking to roll the apps out across Thiess' Australian sites.
Additional developments for the mobile warehouse app are in progress to expand functionality. This includes working with major suppliers to ensure shipment paperwork has barcodes, reducing manual data entry and integrating advance shipping notices to allow one-click receipting, decreasing the time taken to process deliveries.
Future updates for the mobile maintenance app will provide additional functionality, including better work order management, allowing tradespeople to search for work orders and parts while responding to a breakdown in the pit.
As part of the roll-out, tablets delivered to sites will be pre-loaded with SIS2GO (CAT SIS app), which allows tradespeople to access maintenance and parts manuals, OEM procedures, and troubleshooting guides directly from the job site without having to return to a kiosk or a computer. With information pre-loaded, it can be accessed anywhere, even offline.
These apps have simplified and enhanced processes, enabling employees to carry out their roles more effectively, improving decision making and delivering faster response time to support projects and facilities in their daily delivery.